Dothan Motor Company Wins National Dealer of the Year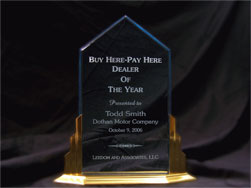 In October of 2006, Todd Smith was awarded Buy Here, Pay Here dealer of the year by Leedom and Associates. Each year, Leedom and Associates nominates 20 dealers in this category, and these nominations are not made lightly. "We compare their operations with the best among those in our nationally recognized Twenty Group and the industry as a whole." said Chris Leedom, of Leedom and Associates. He goes on, "we also look at the intangibles such as leadership, respect in the community, goal-setting, perseverance and tenacity."1.
1 "Leedom and Associates National Special Finance and Buy Here-Pay Here Dealers of the Year" Dealer Business Journal, November 2006.